VisuNet
Do not worry about rules and regulations, with aditec "VisuNet" you are always one step ahead!
Programming installations and processes, automatic controlling, monitoring, recording and filing according to HACCP/IFS under Windows 7, Vista, Windows 8/8.1/10, Windows Server 2008/2012 R2/2016/2019.
 
In the food industry, the basis of a modern control system in a plant, is a suitable process controller. This controller has, through specific programming, a direct influence on the technological manufacturing process of the product.

 

For the manufacturer of different meat products, the use of such control units in the meat-processing industry guaranties absolute control over the manufacturing process. During the whole technological process, the products are subject to this control process, which determines quality, yield and shelf life.

The quality and hygiene guidelines HACCP/IFS, which have been introduced for the food industry, stipulate that you have to have a means of logging, visualizing and filing production processes.

 

The basis for an all-comprehensive quality control is the EN ISO 9000-9004 standard (or the German meat and hygiene stipulation § 11c Abs. 3). If you decide on an aditec process- controller and aditec VisuNet you will always be up-to-date!

Downloads
All the process controllers of the new generation:
MKA 120 / 500 / 800
MIC 900...
MIC 1100
MIC 3000

 
can be linked to the visualisation process "VisuNet" designed by aditec!
For visualisation of aditec controllers of the previous generation, please ask specifically! 

Remote monitoring of installations and processes...Making changes to the configuration of a controller...Status inquiry of installations. Please also inform yourself about VisuNet COMFORT with remote monitoring/ telecontrol engineering (aditec-control) and VisuNet PREMIUM with multi-user capability (Client/Server), several companies via Internet/VPN.
 
VisuNet

Easy networking of all aditec controllers with one central computer
Easy installation via a download with detailed installation instructions
Easy of operation, no previous experience needed
Clear display of all actual and nominal values, as well as of the operation status of individual units
Trend charts of all actual and nominal values with corresponding product line and processes (presented as a diagram or table) an a scalable time axis
Zoom function
Process list - Synoptical table of all actual and nominal values with product types and treatment types (process names), batch number and administrator names
Filing of all data by means of a programmable time interval of up to 10 years (the time interval can be adjusted)
Alarm lists
Multi-tasking capability
Trend graph diagram of all actual values in a programme with names and processes
Changes can be made to the output interval times of all process measurements
Batch number entry possible
Remote-programmable via VisuNet: configuring a programme, editing and transmitting via PC
Remote-controlled units, starting/stopping via PC
Free service programme for WIN XP, WIN 7, Vista, Win 8/8.1/10, Windows Server 2008/2012 R2/2016/2019
Free demo version of VisuNet
Printing of self-designed documents (protocols, labels, etc.) at the end of the program
Automatic generation of batch numbers at the end of the program with option to print out barcode labels
Using a barcode scanner for selection of the plant, scanning of the batch number and program start via scanner
Free demonstrations, without any obligation 
Using customer logo

 

What is so special about VisuNet: 

Limitlessly upgradable through Ethernet/LAN
Different networks can be integrated: LAN, Ethernet, RS 485 and more...
Detailed databank back-up with planning and administration
Administrator allocation / user rights
Programming and remote PC-output via network or Internet
Remote controlling / telecontrol engineering with aditec-control
Exporting data to MS-Excel and CSV-format
Characteristic curve: Improved "zooming". Temperatures, vacuum, pressure and/or the time scale of each installation can be adjusted.
Transmission of alarms via SMS or Email. Schedules can be created
Automatic time alignment between the controller and PC
Multi-user capability (Client/Server) with VisuNet PREMIUM (only combinable with BASE or COMFORT) Each license = 3 workstations at the same time.
Acquisition of operating data is also possible, depending on controller. Several  consumers can be recorded and the costs may be calculated.
Transmission of data to a higher level ERP- System by SQL interface
Level BASE or COMFORT can be individually chosen for each unit 
Event viewer with automatic comparison between the configured program and how far the program/process has progressed.
Differences between VisuNet BASE / COMFORT / PREMIUM: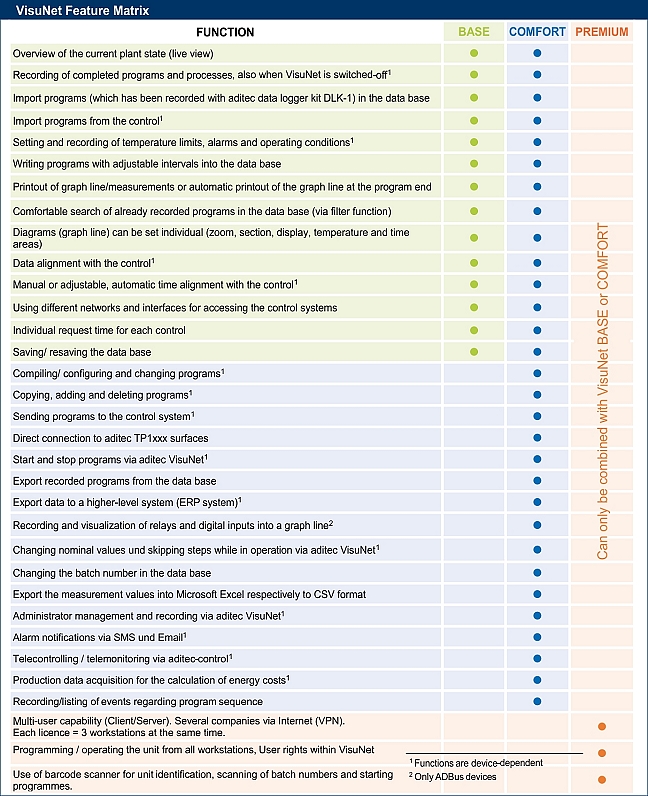 Customer-specific requests can also be realized. Please, ask us!